Saint Diego
by Admin
—

last modified

Apr 13, 2020 06:43 PM
He represents the historic character of the title: S. Diego of San Nicolas del Puerto (Seville) also had known as S. Diego de Alcalá.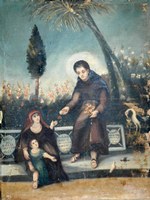 We suppose, that the lady who ordered it wanted to thus pay tribute to a person of high esteem, her son.
It represents a little-known but outstanding San Diego, pattern of the abundant Diego's in Iberoamerica, natural of San Nicolas of the Port (Seville).
The legend refers to the place where he began his activity as a lay Franciscan monk., Arruzafa (Córdoba).
It is oil painting over linen cloth 80 x 60 cm (approximately, frame exists). The linen cloth has signature in its latter part. And a Legend: "S. Diego of Alcala confessor, was born in Andalucía diocese of Seville was I bequeath in the religion of S. Frank in convent of Arruzafa".
San Diego (1400-1463) a character as surprising, relevant and admirable as he is unknown, gives his name to a large city of nearly one and a half million people in California U.S.A. Secular Franciscan, an embarrassing witness of the first Hispanic colonization of the Canary Islands, a necessary reference and ancestor of the Spanish mystics of the Golden Age. Canonized in 1588 during the only canonization carried out by the Catholic Church in the sixteenth century [1] before whose tomb they bowed before being canonized, King Philip II, Prince Charles (and Henry IV of Castile and the Princes of Spain) . His body is preserved uncorrupted. Even so he is not known to the leading personalities of his own order. I can testify to this because I had the opportunity to meet the Abbot of a famous Franciscan monastery and hi was confess without hesitation "I do not know his history".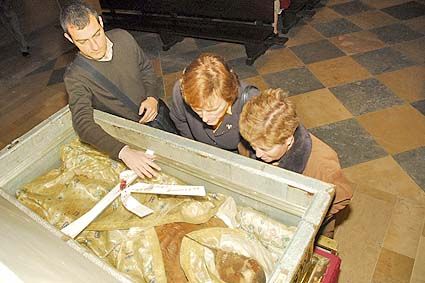 uncorrupted body of Saint Diégo
Document Actions