Saint Diego
by Admin
—

last modified

Feb 20, 2008 08:07 PM
He represents the historic character of the title: S. Diego of San Nicolas del Puerto (Seville) also had known as S. Diego de Alcalá.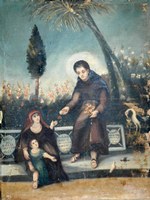 We suppose, that the lady who ordered it wanted to thus pay tribute to a person of high esteem, her son.
 It represents a little-known but outstanding San Diego, pattern of the abundant Diego's in Iberoamerica, natural of San Nicolas of the Port (Seville).
 The legend makes reference to the place where this monk developed his activity, it seems to be Arruzafa (Cordoba).
 It is oil painting over linen cloth 80 x 60 cm (approximately, frame exists). The linen cloth has signature in its latter part. And a Legend: "S. Diego of Alcala confessor, was born in Andalucía diocese of Seville was I bequeath in the religion of S. Frank in convent of Arruzafa".
Document Actions