1899 A Transcendent Date in his Biography (Friday August 4th date of the paintings)
by admin
—

last modified

Apr 08, 2020 05:01 PM
All G. Braque's biographies stand out this year. ¿Why?: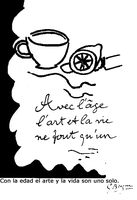 with age art and life are one
All the Biographies of G. Braque of a minimum extension -for example a folio- stand out this year of 1899, for three reasons that are one:

1- He finishes his studies at the art school in Le Havre.

2-He leaves (apparently without concluding) his secondary studies at the institute.

3-September he moves to Paris where he starts working as an apprentice painter-decorator with a family friend.

Thus, an important date in his history. After what we have appreciated in these paintings and what we have observed in his biography, we can affirm it.

It is now that he makes the leap from student to worker.

A leap that marks a very appropriate vacation in Spain that will be financed by making some paintings to order, we believe, in Seville and we suppose that in the workshop of some well-known local painter.

Thus, the admirers of this referential artist of the 20th century, who also left a great legacy as a thinker and writings of great authors - in short, a total and complete creator who consecrated all his life to human progress and to militancy in the transformative avant-garde - can, thanks to this discovery, get closer to the exciting and fascinating story of an exemplary character. At the same time, we are immersed in an era, a generation and characters that represent the most outstanding of the world's art history.

I don't want to miss the opportunity that these paintings give us to also approach two historical figures of unusual size, San Benito and San Diego, the first being very well known, but not the second.
San Diego, which gives its name to a large city of nearly one and a half million people in California USA as surprising as it is unknown. Lay Franciscan, embarrassing witness of the first Hispanic colonization of the Canary Islands, a necessary reference and ancestor of the Spanish mystics of the Golden Age. Canonized in 1588 during the only canonization carried out by the Catholic Church in the sixteenth century [1] before whose tomb Emperor Philip II (and Henry IV of Castile and the Princes of Spain) prostrated themselves before being canonized. His body is preserved uncorrupted. Even so, he is not known to the leading figures of his own order. I can testify to this because I had the opportunity to meet the abbot of a famous Franciscan monastery and he frankly confessed to me "I do not know his story". More about San Diego ...
Document Actions