Saint Ben Abbot
by Admin
—

last modified

Apr 07, 2020 08:51 PM
It represents at the founder of the order of the Benedictines. It contains legend.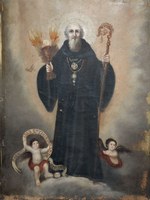 It had been done by order of a pious Spanish woman, (1899); we suppose that it had been ordered in Seville, where it came to stop at hands of then the young painter.
In this date – summer- G. Braque were finished his studies in the academy of Arts of L'Havre, and can be painting (in Seville? in the own factory of some of those teachers who then taught in the schools of offices and arts) in Andalucia. It is oil painting over linen cloth 80 x 60 cm without frame. The linen cloth has signature in its latter part. And a Legend: "Saint Benito Abbot Founder and Patriarch of its Order". The latter part (the other side of the linen cloth) also has a note written by the author: "August 4th Friday. Theological Mention: The hawthorn burning that S. Benito holds in a hand means the Chastity ".
Document Actions